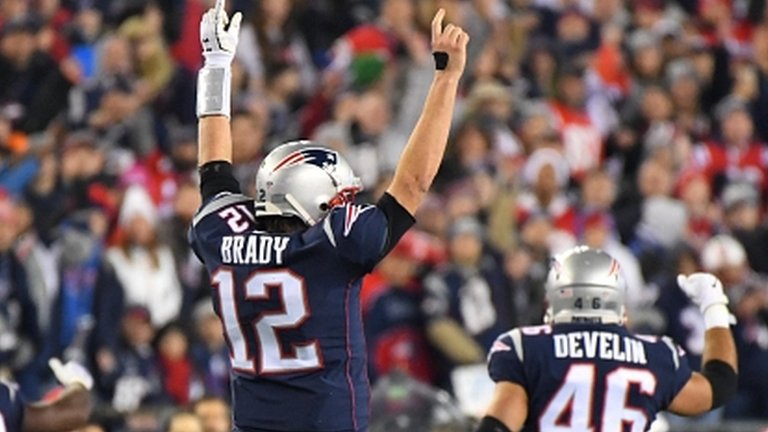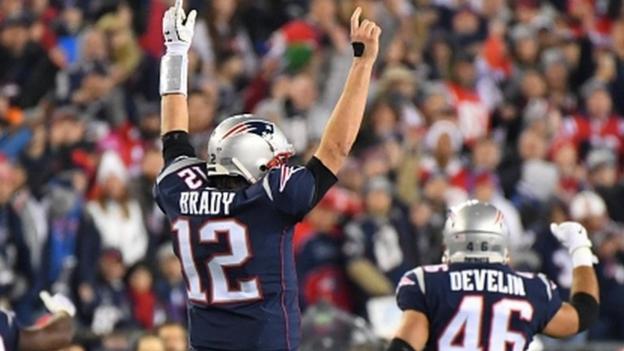 Super Bowl 52
Date: Sunday, 4 February Time: 23:30 GMT
Venue: US Bank Stadium, Minneapolis, Minnesota
Coverage: Watch live on BBC TV, online and the BBC Sport app plus follow live radio and text commentary.
Tom Brady threw two fourth-quarter touchdown passes as champions New England Patriots reached the Super Bowl for the third time in four seasons.
The Patriots overcame the Jacksonville Jaguars 24-20 to book a showdown against the Philadelphia Eagles.
Quarterback Nick Foles threw three touchdowns as the Eagles thrashed the Minnesota Vikings 38-7.
The Patriots will equal Pittsburgh's record of six Super Bowl triumphs if they win on 4 February in Minneapolis.
"It's pretty crazy," said five-time Super Bowl winner Brady. "It's pretty amazing to be on a team that wins these kind of games. It's so great."
Foles, who took over as Philadelphia's quarterback last month after an injury to Carson Wentz, completed 26 of 33 passes for a total of 352 yards.
"This moment, it's unbelievable. It's humbling," he said.
"The team was amazing. I'm a little speechless. It's amazing soaking this all in. We all believe in each other. Everyone was against us. We came in here and came out with an amazing victory."
It will be a rematch of Super Bowl 39 from 2005, when quarterback Brady threw two touchdown passes and the Patriots won 24-21 for their third title in four seasons, the same run they could complete in two weeks.
The Eagles, whose other Super Bowl appearance in 1981 ended in defeat, last won an NFL title in 1960 before the Super Bowl era began.
Brady inspires 'amazing' fightback
Brady, who needed stitches for a right-hand injury suffered in practice on Wednesday, completed 26 of 38 passes for 290 yards, 138 of them in the fourth quarter.
"We said whatever it takes," said the 40-year-old. "That was a great second half. Just so proud of our team. Amazing."
Brady's nine-yard touchdown pass to Danny Amendola with just over eight minutes remaining reduced New England's deficit to 20-17.
Amendola returned a punt 20 yards to the Jaguars' 30-yard line, then made a diving catch and three plays later produced an acrobatic catch to secure the decisive touchdown.
"We've got a lot of guys that fight and never give up, that know how to play situational football," Patriots coach Bill Belichick said. "I'm really proud of these guys."
Under-pressure Foles rises to challenge
Foles proved he can deliver in big games after some critics wrote off the Eagles following Wentz' injury.
"I'm so happy for Nick," Eagles coach Doug Pederson said. "For everything he has been through and battled he has stayed true and stayed the course. We all believed in him."
Case Keenum's 25-yard touchdown pass to Kyle Rudolph opened the scoring for Minnesota, but Patrick Robinson returned an intercepted Keenum pass 50 yards for a touchdown to equalize at 7-7.
Former Patriot rusher LeGarrette Blount ran 11 yards for an Eagles touchdown and Foles followed with touchdown passes of 53 and five yards to Alshon Jeffery and 41 yards to Torrey Smith.
The Vikings would have been the first team to play a Super Bowl in their home stadium.