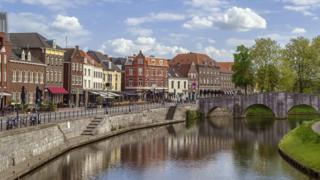 A Dutch-Moroccan woman has been charged with child abuse in the Netherlands after she put her nine-year-old son's hands in a hot oven in the belief that it would drive out an evil spirit.
The woman, 39, also stuffed his ears with cotton wool, damaging his hearing. The boy was taken into care in 2016.
A preliminary hearing is due to be held in the southern city of Roermond.
Her lawyer says she cannot be guilty of abuse as she thought she was doing her son good.
"Abuse means you are hurting someone on purpose, and that is not the case here," Anis Boumanjal told Volkskrant newspaper (in Dutch).
A survey for the Dutch mental health organisation GGZ found that between 60% to 80% of Muslims in the Netherlands think mental health problems are caused by demons.
It is thought this is the first case of its kind in country.
You may also find interesting