By Theodore Opara
TOYOTA RAV4 Sport Utility vehicle, SUV, is one of the most sought after compact SUVs in the country despite its high cost. But this has not deterred those who have the money to purchase the car as they see it as the best SUV money can buy in its segment.
Many factors play in favour of the new RAV4 when it comes to making a choice for a compact SUV. Apart from its cute design and outstanding performance, the RAV4 boasts the best resale value in its segment. Its reliability and durability has no equal while it offers comfort and luxury beyond its class.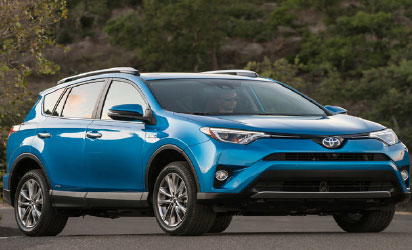 Toyota says the fourth generation RAV4 is the result of a revolutionary new design concept, an SUV that attains a level of refinement never seen before. In a major evolution of its pioneering crossover performance, the new RAV4 takes on a stylish new personality, radiant with urban beauty and confident power. These features define the new SUV legend of the future. This claim by Toyota on the all new RAV4 cannot be faulted because the compact SUV has redefined the rules in its segment in terms of ride comfort, safety and overall performance.
Ultimate refinement
Bold, stylish design and uniquely commanding presence distinguish RAV4 from any SUV in town. The ultimate refinement of RAV4 design has a dynamic beauty that shines in any setting. So  RAV4 no matter what, always stands out in the crowd.
The RAV4 boasts creative interior, featuring a bold and powerful new instrument panel design executed with a highthearted touch, the new RAV4 delivers a level of driving pleasure in its class. The sporting and open appeal of the RAV4's interior, starting from the dashboard, to steering wheel and meticulous attention to overall comfort as reflected in the seats demonstrates RAV4 position as a class leader.
Under the hood of the RAV4 is a four cylinder engine, meted to a six-speed super intelligent ECT, electronically controlled transmission. RAV4 is loaded with array of features that deliver first class ride comfort.
The front suspension adopts Macpherson strut with rigid and compact L-shaped lower control arms, while the rear utilizes rigid and compact trailing arm double wishbone suspension. Hill-start assist control, downhill assist control, sport mode with dynamic torque control, and four wheel drive all work together to deliver best in lass performance by RAV4.
Inside the RAV4 are also array of advanced new features and functions that thrill occupants while the ride lasts. Automatic air conditioning system, multi-function steering, as well as six inch TFT display audio system features external USB and audio mini-jack compactibility, together with Bluetooth connectivity. Safety-wise, the RAV4 has earned it all as far as safety is concerned with extensive advanced safety features. SRS airbags, seatbelts, back sona rear view monitor etc keep occupant safety, while other advanced safety features like anti-lock braking system, downhill assist control, hill-start assist control etc keep accident at bay.